Welcome to the Empires of the Undergrowth Wiki
Empires Of The Undergrowth is a simulation Strategy game made and developed by Slug Disco Studios. The game is currently in early access on steam. Feel free to use our

forums

or

chat room

to discuss gameplay. All editors are welcome. Come join our community!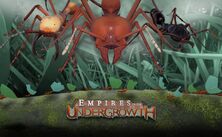 Empires of the Undergrowth is an ant colony management game, in a fast-paced real-time strategy style. The player excavates their nest underground, constructing tunnels and chambers to store food and raise brood. Read More...
Official Youtube Channel: https://www.https://www.youtube.com/channel/UCtHilwcTxOVg5RxEWCDfcwA
Official Twitter: https://www.twitter.com/slugdisco
Official Forum: https://forum.slugdisco.com
Steam: https://store.steampowered.com/app/463530/Empires_of_the_Undergrowth/
Discord: https://discord.com/invite/dyHnugt